BVU Special Education Feedback
The CTU engaged the non-profit consulting services of Business Volunteers Unlimited (BVU) to assess interests and concerns of the intervention specialists, paraprofessionals, transition coordinators, and related service providers as it relates to the CTU. We are pleased to have had 1,588 CTU members respond to the survey (all CTU members received one in the fall of 2021) and another 40 members participate in focus groups in November of 2021. We have included a summary of the feedback below, as well as recommendations made to the Executive Board by BVU to address some of the issues that were raised as part of the survey results and/or by the focus groups.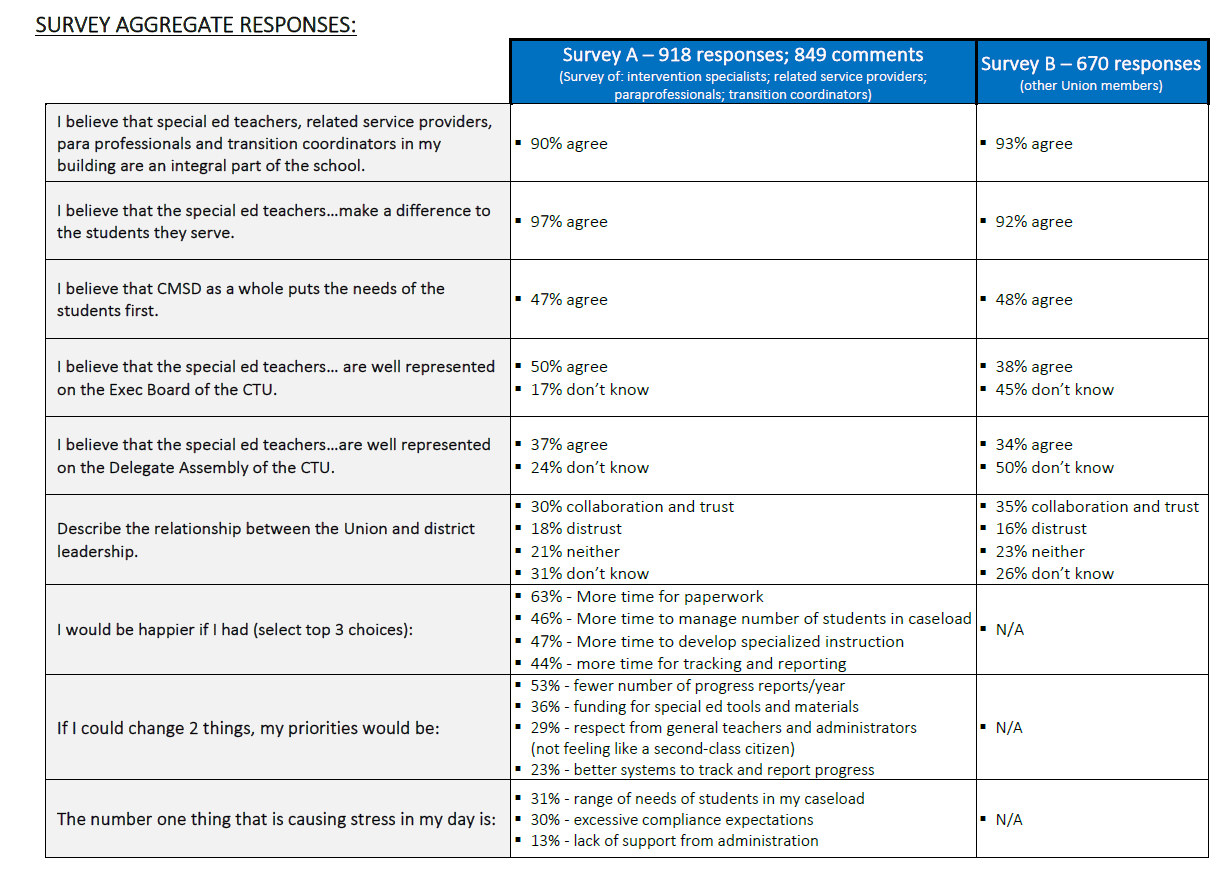 Areas for attention
A voice at the Executive Board table for Special Education

Cumbersome paperwork

Simplify/minimize paperwork and reporting, not enough time

Professional Development

Access to more subject matter training and professional development for special education and general education teachers

Build respect and understanding between special ed and general ed teachers (general ed teacher is an integral part of the IEP/service team), build respect between School District and special education teachers

Communication and responsiveness

Clear, consistent communication between members and the Union
CTU Member Focus Group Responses



From your perspective, what are the top two challenges that the Union can help you address?
Concern over where child is placed.

Self-contained v. inclusion and who makes that decision. Union can advocate for teachers in classroom to have more power; behavioral specialists and program managers are decision makers, but many don't have classroom experience.

Lack of appropriate training.

There are many hours of professional development but could use more training when there are new requirements or a new software system. Self-directed training does not always work. Sometimes need a physical presence.

More subject matter appropriate professional development.

i.e. Sensory issues, autism specific, teaching phonics to visual learners.

Distrust with "downtown CMSD."

Specifically, that leadership can be demeaning and talk down to special education teachers and staff. They were muted in a training and unable to ask questions.

Very challenging to teach multiple grade levels in multiple subjects.

Sometimes have to be two places at one time.

Cumbersome paperwork and reporting.

Completing most paperwork and IEPs at home because of spending time in school collaborating with other teachers, etc. Current allotment of ½ a day per reporting period is not enough.

Need for resources.

Specialized equipment and devices for students.
Recommendations for the CTU Executive Board from BVU Assessment
Transparency and responsiveness.

Share summary of assessments with CTU members

Streamline/strengthen communication between CTU and members

. Engage a communications professional to assess and recommend communications strategy for CTU to communicate with members more effectively (BVU is recruiting pro bono marketing expertise).
Download:

BVU_SpEd projectmmresponseFINAL.pdf